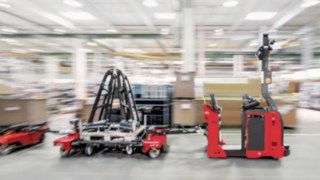 Growing Goods Flows
The worldwide movement of goods is increasing while also becoming ever more fragmented. These changes require more efficient logistics and control systems. After all, 3.8 billion parcels are expected to be dispatched in 2018 in Germany alone.


Price Pressure
The intensity of the competition is also on the rise – not least as a result of globalization. At the same time, material, transport, and staffing costs are rising. As such, intralogistics has to prove its marketability at an ever lower price.


Automation
As cost pressure increases, so does the pressure to take steps towards automation. More and more companies are becoming compelled to retrofit their systems and use autonomous equipment and transport control systems for internal goods traffic.


Networking
Market developments demand ever faster processes. These complex requirements necessitate across-the-board networking of all equipment used in the supply chain. People, machines, and transport and storage systems all need to be linked up to merchandise management, external transport, customer, and supplier systems.


Individualization
The requirements for intralogistics solutions are completely different from company to company, with different process flows and investment volumes. This is why standardized modular systems are growing in popularity, as they can be precisely tailored to the needs of individual customers.


New Career Profiles
Digitalization opens up a whole new world of professional intralogistics opportunities for employees. For example, engineers, drone pilots, and robot coordinators, wearing the latest smart gloves and data glasses, are all required.
INTRALOGISTICS³ - The Blog
Frank Heptner is Senior Director Consultancy and Projects Intralogistics Solutions at Linde Material Handling. In the course of his over 15 year career, the mechanical engineering graduate developed into a specialist in the field of automatic warehouse solutions.
At Linde, the native German, who grew up in France, is responsible for the consulting business for intralogistics and project management for intralogistics solutions. In his blog he looks at current trends and developments in the industry.