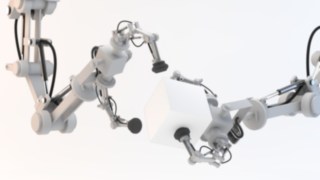 Clear Trends in Logistics
Increasingly small and ever more varied production lot sizes and stock levels and individualized picking and packaging of products require more cost-effective and faster goods handling solutions.


Cost-Effective and More Flexible Launch Options
Getting started with robotics doesn't have to involve huge financial and staffing investments. It can be implemented on a very small scale and can be easily extended to a larger scale later on.


No Compatibility Issues
There are already proven intelligent system solutions that can be easily integrated into existing IT infrastructures and internal logistics processes without requiring changes to the existing environment.


Fast Implementation
The precise, simple monitoring of the environment, the use of infrastructure-free geonavigation (without rails in the floor) and implementation including the operative training of employees takes only a few days at the most.


Increased Efficiency
Automated system solutions with driverless equipment and intelligent transport controls do not only cut down on staffing costs: They also work much faster and more reliably than previous traditional solutions.


Greater Safety and Quality
Driverless trucks are equipped with sensors that precisely detect movement and any unexpected obstacles, allowing them to immediately react to hazards during transport. This also makes the loading and unloading of goods safer, which in turn improves the quality of handling.


No Other Option
There's no getting around it: automation is coming. Trends in the industry, growing economic pressure, and competitive dynamics will all, sooner or later, force every company in intralogistics to rethink and respond.
INTRALOGISTICS³ - The Blog
Frank Heptner is Senior Director Consultancy and Projects Intralogistics Solutions at Linde Material Handling. In the course of his over 15 year career, the mechanical engineering graduate developed into a specialist in the field of automatic warehouse solutions.
At Linde, the native German, who grew up in France, is responsible for the consulting business for intralogistics and project management for intralogistics solutions. In his blog he looks at current trends and developments in the industry.