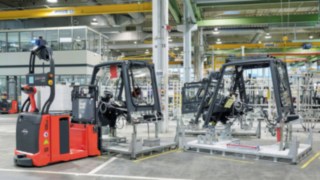 In today's intralogistics, the factor of security plays an increasingly important and serious role. The transport of valuable, often very fragile products and goods must be secured, and the sometimes complex work processes must often be guaranteed smoothly around the clock. The main focus is on the safety of the people integrated into the process, who work in a friction-rich environment and are often exposed to considerable health risks in their profession.
For this reason, Linde Material Handling is not only relying on strong efficiency advantages in its increasingly popular automation program for intralogistics, but is also flanking the technologically advanced system solutions with a whole bundle of new safety components.
Linde follows the principle of risk avoidance. And this at a wide variety of control levels: A forklift navigation system routes all forklifts and optimizes their travel distances. At the same time, all objects in the hall are located. The detection of all objects avoids possible dangerous collisions and thus automatically prevents injuries and damage to goods and equipment. In addition, the devices can be retrofitted with sensors that automatically reduce speed in the event of danger and, if necessary, also enable speed switching in certain zones.
Vehicle safety can literally be retrofitted here at the highest level. Thanks to the electric drive, forklift trucks with particularly high masts can be stabilized to such an extent that mast fluctuations are noticeably reduced and the vehicles thus become a good deal safer. The special warning devices for narrow tramlines and confusing intersections, the backward-facing spotlights for early detection of approaching objects and the vibration-resistant LED technology, which provides for increased exposure, also reduce the safety risks in warehouses and production plants.
Due to the intensified networking, IT and data security is also a major security challenge of digital transformation. Insufficiently secured or not 100% reliable automation technology quickly runs into the money. In this context, safety deficiencies also cause dangers for the operating personnel, can lead to costly interruptions of work processes or even a prolonged production downtime. Sufficient protection is only provided by sophisticated security technology and a comprehensive and planned IT security strategy. An experienced supplier such as Linde therefore delivers advantages that should not be underestimated.
INTRALOGISTICS³ - The Blog
Frank Heptner is Senior Director Consultancy and Projects Intralogistics Solutions at Linde Material Handling. In the course of his over 15 year career, the mechanical engineering graduate developed into a specialist in the field of automatic warehouse solutions.
At Linde, the native German, who grew up in France, is responsible for the consulting business for intralogistics and project management for intralogistics solutions. In his blog he looks at current trends and developments in the industry.