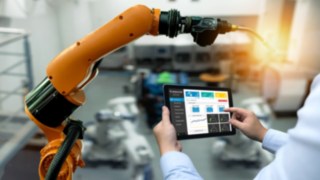 Intralogistics companies are feeling the pressure. The globally booming, ever-more individualized flow of goods is increasingly moving towards new models. The main challenge they face is to make a growing flow of goods more efficient and to control it more precisely. As a result, market players are moving away from established procedures and outdated techniques, and, inevitably, towards automation.
Flexible automation offers enormous potential for increasing efficiency. It was specially designed for this intralogistics challenge and can also be seamlessly integrated into existing processes, structures, and facilities. With this in mind, it is not surprising that automation is now in demand – particularly in areas where efficiency is at the top of the agenda, where orders have to be processed very quickly, and processes have to be kept flexible right up to the last second. It is also in demand in areas dominated by repetitive tasks completed in multiple shift operation.
Flexible automation offers enormous potential for increasing efficiency.
Ensuring a high efficiency solution starts with a thorough analysis, which allows it to be tailored to the customer's specific needs right from the outset. When it comes to cost efficiency, however, there are even more important points to consider: driverless trucks can be used around the clock and lead to significant reductions in staff costs while also doing away with sick leave entirely. For this reason alone, cost managers will be delighted to get the solution implemented – the quicker the better.
Improving working speed efficiency involves system components that communicate with each other, and autonomous industrial trucks that independently identify their own transport targets. In addition, the entire system is mobile, i.e. can be dismantled quickly and easily and can be rebuilt in any other location without any structural adjustments required.
Flexible automation is also indispensable in factory halls, where safety is the top priority: Where the aim is to prevent costly production downtimes and damage to valuable transport goods and, most importantly of all, to prevent accidents in the workplace. This requires reliable, robust, and tried-and-tested system components: All qualities that Linde's industrial trucks are widely renowned for, as are their system components and Linde's highly reliable, globe-spanning service network.
As in virtually every other field, the path to cost savings in intralogistics lies mainly in the direction of digitalization. This does require, however, a holistic approach and that the customer is willing to develop their own digital competencies.
INTRALOGISTICS³ - The Blog
Frank Heptner is Senior Director Consultancy and Projects Intralogistics Solutions at Linde Material Handling. In the course of his over 15 year career, the mechanical engineering graduate developed into a specialist in the field of automatic warehouse solutions.
At Linde, the native German, who grew up in France, is responsible for the consulting business for intralogistics and project management for intralogistics solutions. In his blog he looks at current trends and developments in the industry.