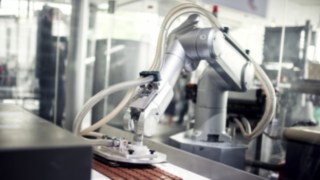 "Forecasts are difficult, especially when it comes to the future", said Mark Twain. Against the background of automation, this certainly also applies to intralogistics. The only certainty is that the industry is facing enormous changes. Despite some pessimistic voices, however, not all the work is being done by the staff employed, it will only be redefined.
The market for intralogistics, which is driven by a shortage of skilled workers as well as an ever-increasing global market for intralogistics, is growing so rapidly that automation is only a logical consequence and market participants can no longer do without it. Due to the acute shortage of personnel alone, many transport tasks would no longer be possible without the use of driverless transport vehicles.
Demand for autonomous vehicles, which has been doubling every year for some time now, is proof of this. As a result of this development, Roland Berger predicts production increases of 20 to 40 % and expects the entry price for driverless transport systems to fall below the EUR 100,000 mark by 2020.
The path to the so-called Social Networked Logistic (Logistic 4.0) has already been largely mapped out. In the future, people will work directly with machines and more and more of the well-known product manufacturers will inevitably become system solution providers.
Linde Material Handling has already made great strides in this direction and occupies a leading role in this booming segment. The innovation offered under the Linde robotics label does not depend on reflectors, induction cables or magnets. With their invisible, laser-controlled geonavigation, the autonomous vehicles orient themselves completely independently in the warehouses. And next, thanks to the use of artificial intelligence, robots replace manual order picking, automatically assemble automated robotic manipulators (ARM) mounted on the vehicle, assemble mixed pallets in distribution centres and pick up heavy bags and cartons without human intervention.
The advent of such innovations in intralogistics is accompanied by a significant change in the job profiles in the industry. Traditional handicrafts are becoming more and more demanding headwork. Robot coordinators plan and monitor machine operations, data specialists analyse and optimise complex work and production processes. In the future, forklift truck drivers will be able to steer autonomous equipment through the warehousing and production halls in an optimized way, and certain processes such as storage and retrieval will be fully automated in the future thanks to intelligent assistance systems. Artificial intelligence is unmistakably gaining ground. In the final analysis, however, it will not compete with the human being, but will merely support him/her or give him/her the privilege of doing more demanding activities.
INTRALOGISTICS³ - The Blog
Frank Heptner is Senior Director Consultancy and Projects Intralogistics Solutions at Linde Material Handling. In the course of his over 15 year career, the mechanical engineering graduate developed into a specialist in the field of automatic warehouse solutions.
At Linde, the native German, who grew up in France, is responsible for the consulting business for intralogistics and project management for intralogistics solutions. In his blog he looks at current trends and developments in the industry.