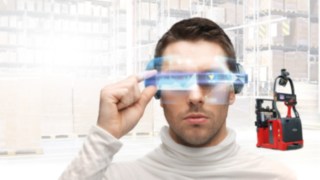 The automation of intralogistics processes is bringing about changes to the work done by the people working in the sector. An industry once dominated by the strenuous carrying and dragging of goods, today, you are more likely to see automated processes. Monotonous, repetitive tasks are being replaced by more challenging activities that are more future-proof, open up new career opportunities, create new ways to make a living, and, naturally, demand higher qualifications.

Managers should be promoting these changes across the board – after all, it is the best response to the epidemic that is the lack of skilled staff. And that is without the consideration that today many transport tasks can no longer be managed without automated processes, or that these developments have reduced absences from work due to illness and have delivered improved transport safety in warehouses and production halls.
This new, futuristic working environment needs specialists who can design, plan, and create bespoke automated system solutions. As a result, in-house retraining and further education programs are gaining in importance.
For intralogistics companies, the impetus is now on systematically building up digital competence in these highly specialized areas and rewriting outdated operational health and safety guidelines to reflect the new conditions created by widespread automated processes.
As long as the global movement of goods and packages continues to swell, then the sector will never be without jobs. And automation is not set to replace human employees – instead, it will relieve them, make their jobs more cerebral, and open doors to new and exciting opportunities. Opportunities, for example, such as data specialists dedicated to the analysis and optimization of work processes, or robot coordinators responsible for the planning and control of machine operations. For humans working in the intralogistics sector, a whole new world of fascinating professional opportunities awaits.
INTRALOGISTICS³ - The Blog
Frank Heptner is Senior Director Consultancy and Projects Intralogistics Solutions at Linde Material Handling. In the course of his over 15 year career, the mechanical engineering graduate developed into a specialist in the field of automatic warehouse solutions.
At Linde, the native German, who grew up in France, is responsible for the consulting business for intralogistics and project management for intralogistics solutions. In his blog he looks at current trends and developments in the industry.