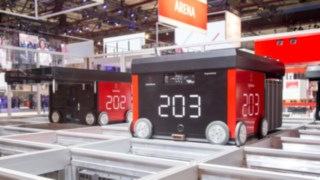 Picking small flows of goods and materials is often time-consuming and prone to errors. The storage of a wide variety of goods usually also takes up a great deal of space. With AutoStore and PutWall, Linde's premium partner Dematic offers two smart solutions that meet these challenges with very different approaches.
AutoStore is an ultra-compact warehouse and at the same time an automated goods-to-person picking system for goods weighing up to 30 kilograms. The system does not require any aisles, so that the entire volume can be used for the storage of products. This is made possible by robots that travel along the top of the warehouse and from there access the inventory stacked in compartments. The containers are put away, removed from storage and delivered to the workstations as required.
The result: no walking distances, higher productivity, faster order processing and higher order accuracy. This makes it possible, for example, to realise highly individual food deliveries through supermarkets, to cope with the increasing online trade, but also to deliver spare parts automatically to workstations in production environments or extensive maintenance processes. The system can be implemented very flexibly in existing infrastructure and can be scaled as required.
Two sides for order picking
The Dematic PutWall system is a simple and effective picking solution. It optimizes order processing for individual piece picking. PutWall uses the principle of division of labour by combining the picking of articles from different orders. This may be necessary in the mail order business as well as in completely different application areas such as spare parts provision or document management.
For this purpose, an employee first scans the products on his side of the PutWall. A light then assigns a compartment to the product and the employee confirms the storage of the product in the compartment at the push of a button. If there are not enough items of a product available at the PutWall, the employee can also request replenishment at the push of a button. On the other side of the PutWall, another employee is responsible for packing and shipping the suitably assembled goods. A light flashes as soon as a compartment is fully loaded. The PutWall approach to order combination and assembly increases the productivity, accuracy and speed of the entire order processing in a very simple and scalable way.