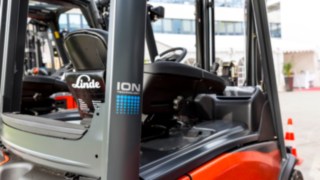 Many advantages speak for lithium-ion batteries as an optimal energy system: fast and intermediate chargeable, energy and cost-saving and at the same time clean. Nevertheless, lead-acid batteries and combustion stackers also have their raison d'être, depending on the requirements. At the World of Material Handling, Linde will show who will benefit from the change and how the technology actually brings its advantages to bear in practice, using a number of success stories as examples.


Peak performance at peak times
The example of Gusto AG, a wholesaler for confectioners and ice-cream parlours near Munich, shows that this works even when used in cold stores. Before switching to lithium-ion batteries, there were repeated bottlenecks in shift changes, especially during peak periods - traditionally the summer months for ice cream products. There was no time to fully charge the batteries. Now the batteries are recharged in one to two hours and can even be connected to the power supply during the lunch break.


NORA AG from Wolfsburg also repeatedly reached capacity limits in the rapid supply of original spare parts to automotive workshops using lead-acid batteries. In addition, high battery wear had a negative impact on operating costs. This is due to the high demands on the availability of the vehicles, which are often in non-stop use from 5.30 a.m. to 12.00 noon and are only charged for half an hour during the lunch break before continuing until 7.30 p.m.. The desired range was achieved with lithium-ion batteries and battery costs were reduced due to the longer service life.


Pharmacompliant intralogistics
Hygiene plays an important role for some companies. For example at the well-known dairy Meggle, which in addition to dairy products for consumers is also a supplier for the pharmaceutical industry - with correspondingly high hygiene requirements. In addition to the well-known advantages in terms of availability, Meggle also benefited from the cleanliness of the low-emission technology at the Wasserburg site.
The decision as to whether the use in the company is worthwhile depends on many individual factors. That is why advice on all aspects of energy systems is particularly important at Linde. A close look at the operating conditions and a profitability calculation with the lithium-ion calculator as a simulation tool help companies to make the right decision.