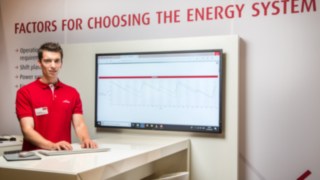 Compared to lead-acid batteries, lithium-ion batteries offer many advantages for users, such as fast intermediate charging, continuous performance and high energy efficiency - without costly battery changes and additional infrastructure. But whether the technology is worthwhile for the respective area of application is decided individually in each individual case. At the World of Material Handling, Christoph Englert, Product Manager Li-ION at Linde, answered the question of how Linde helps companies make the right decision.


Mr Englert, what do you usually answer to the question whether lithium-ion batteries are worthwhile?
That it depends on the individual case. And that's exactly what we're looking at with the lithium-ion calculator. It is an important element in our consulting process. As a rule, we have already shown the customer our product portfolio and a few user reports. Now it is a matter of analysing the individual situation of the customer in detail.


How does the tool work and what exactly is calculated?
We can use the computer to precisely simulate the customer's application, i.e. which vehicle, which battery and which charger is used, over how many shifts, with which breaks and when peak loads occur. The tool first shows how energy consumption is consumed during shifts and at which points charging processes are necessary. You can always see the direct comparison between lead-acid and lithium-ion batteries and whether the respective battery type and the charger are sufficient for the individual application, or whether many battery changes or long charging processes are necessary.


And how does the customer ultimately come to a decision?
For this purpose, we store the energy costs, but also the personnel costs for the battery change for lead-acid batteries and the associated water costs. A look at the total cost of ownership then shows what costs can be saved by using lithium-ion batteries.


How high are the saved costs as a rule?
If two battery changes are omitted, for example, a possible total saving could be around 7.50 euros per day. Projected to the year and with the use of, for example, three vehicles, we are already at over 7,500 euros annually, depending on the days of use.


However, the purchase costs for lithium-ion batteries are significantly higher than for lead-acid batteries. How do you answer the question about return-on-investment?
The tool comes with it. This includes the purchase costs, but also any costs for a second battery, for example, if the vehicle is to be used continuously over several shifts, as well as the maintenance costs. After high initial costs, the lower running costs are clearly noticeable. As a rule, a lithium-ion battery has already reached break-even after about three and a half years. Individual for the customer - Christoph Englert explains why the decision is easier with the help of the lithium-ion calculator!