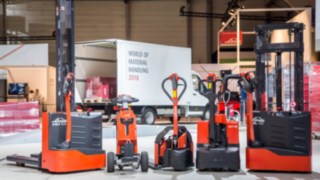 When loading and unloading goods or parts, forklift trucks are often only used for a few hours a day, for short-distance transport, for occasional storage and retrieval of pallets or to cover the "last mile" in the truck. The required equipment must be appropriate, light, manoeuvrable and powerful at the same time. At the World of Material Handling, Linde will be presenting its expanded pallet truck portfolio, which meets precisely these requirements.
MT12
The electric pallet lift truck MT12 has a load capacity of 1.2 tonnes. Thanks to the 0.65 kilowatt AC motor, all movements can be carried out without any effort. The lithium-ion battery lasts up to three hours and has already reached 50 percent charging capacity after about 30 minutes. Due to its compactness, it is suitable wherever space is particularly limited, for example for transporting goods in fast food restaurants, for towels and sheets in hospitals or for transporting medicines in the warehouse of pharmacies.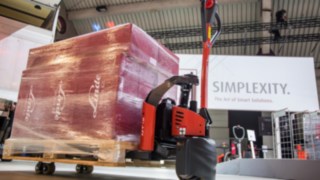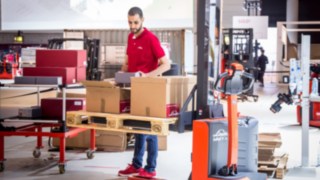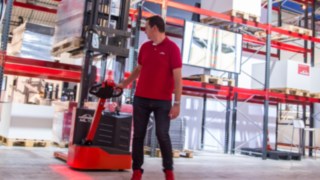 MM10, ML10 and MM10i
In the pallet stacker segment, three vehicles for light to medium applications have been added. The MM10 (mono mast) and the ML10 (normal mast) are suitable for pallet handling up to 1,000 kilograms. The mono mast offers a particularly good view of the load when stored at a height of up to two meters and is also suitable as a "work bench" for ergonomic work. The pallet is simply raised to the working height of the employee. The MM10i model with initial lift is available for use on ramps or slopes or when more ground clearance is required.
MP13
Another innovation in the portfolio of light warehouse equipment is the MP13, a small hand-drawn tow tractor that transports smaller logistics trains with loads of up to 1.3 tons at a speed of up to 4.5 kilometers per hour within industrial production processes. By using different hooks, it is also suitable for pulling roll-up cage pallets, as used by retailers, but also for lined up baggage or shopping trolleys at airports and railway stations.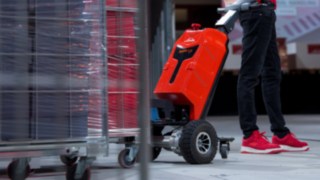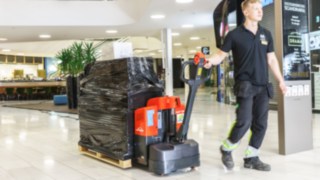 MT15
The electric hand pallet truck MT15 with compact chassis is the ideal companion in trucks. Whether on trucks or in narrow aisles, the MT15 manoeuvres goods up to 1,500 kilograms smooth and fast. The best thing is that the operator does not have to apply any effort, because the powerful alternating motor drives all movements of the vehicle. The hand pallet truck is operated simply and intuitively via the control on the tiller handle. The butterfly switch is also located here. If the operator lets go, electromagnetic brakes effectively reduce the speed.