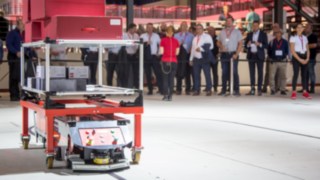 In production, all transport processes must interlock smoothly and precisely. Linde will demonstrate in an exemplary production environment at the World of Material Handling how this can be optimally achieved with the aid of manual, semi-automatic and automatic solutions. The P-MATIC and C-MATIC are used for light to medium transport tasks.
The P-MATIC is a tow tractor that automatically transports up to 5,000 kilograms to and from corresponding stations in the production process. Amongst other things, it is used in vehicle production at the car manufacturer Opel in Vienna. The updated model demonstrated at the World of Material Handling has numerous additional features in terms of safety and efficiency.
For example, the control display can be folded away to the side if required. This improves visibility of the loads if the vehicle is operated manually in parts. The new 360-degree navigation laser also ensures that objects are detected at a greater distance. This ensures that the vehicle always finds sufficient reference points for navigation even in larger rooms. Thanks to additional lateral safety sensors, the P-MATIC takes obstacles or people in its vicinity even better and can react in time. The vehicle currently reaches a speed of around 7.2 kilometres per hour in automated and around ten kilometres per hour in manual operation.
Perseverance in the production course
With the C-MATIC, Linde has added a completely new concept to its portfolio of automation solutions. At the World of Material Handling, the compact guided cart - called C based on "cart" - will demonstrate how it effectively supports simple automation processes in production logistics. It manoeuvres independently along an easy-to-install magnetic tape and docks under a trolley provided. At the push of a button, it then transports loads of up to 650 kilograms at a maximum speed of three kilometers per hour.
The little helper proves his endurance: one battery charge lasts up to 16 hours. In this way, it helps with sequential or continuous line supply through a reliable supply of parts. Thanks to the easy-to-install magnetic tape, new routes can be set up flexibly and at short notice. Using RFID tags under the magnetic tape, the C-MATIC can perform other actions, such as slowing down at pedestrian crossings.