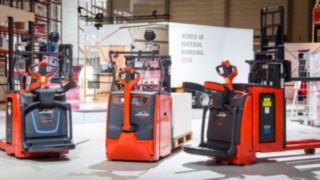 Tight space conditions during loading and unloading or when storing and retrieving pallets make handling difficult and increase the risk of accidents. At the World of Material Handling, Linde is presenting its pallet stackers and pallet trucks, which solve this problem with a special feature: with a chassis width of 720 millimetres, they are all narrower than a Euro pallet and therefore particularly manoeuvrable. This helps to avoid collision damage in trucks or storage rooms and accelerates handling.
The new pallet trucks include the T20 and T25 pedestrian models and the convertible T20 APB, T20 AP and T25 AP models. With a foldable platform, they can be turned into a platform trucks for particularly flexible and efficient handling in just a few easy steps. The elevated level also improves visibility of the loads.
The D10 B and D10 double-deck loaders and the D10 APB and D10 AP, which are also convertible and have a foldable platform, are particularly suitable for high productivity when storing and retrieving pallets. All vehicles are equipped with a driver unit decoupled from the chassis for comfortable and fatigue-free operation. The updated assistance system Linde Speed Management increases vehicle performance. The system optimizes the maximum speed depending on the weight on the forks of the main lift.