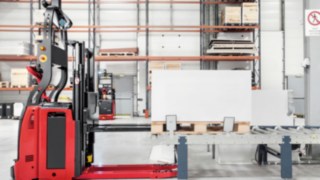 Is it worth the effort? Is it difficult to implement? Is my working environment suitable for this? Some companies find it difficult to decide to enter the field of automation. Which many don't know: Linde is able to answer these questions with a Proof of Concept before companies finally decide on an automation solution. At the World of Material Handling, Linde is showing visitors how the proof of concept works and how easy it can be to get started with automation.
Linde's automation solutions are very practical. They are based on the proven standard vehicles, extended by automation components. Users can often use familiar vehicles - and thanks to "Dual Mode", they can even use them manually if required. However, in order to find out in advance whether the conditions for a successful deployment on site are met, Linde will carry out a proof of concept on request. Linde installs the desired solution directly where it is to be used. Ideally even in places where conditions are particularly problematic: uneven or slippery floors, confined spaces and heavy or bulky loads.
Usually, the test only takes one day to set up and another day to run. First, a map of the surroundings is created by laser scanning and cleaned so that the vehicle can orient itself in the room. The desired routes as well as pick-up and drop-off points are then programmed. The test run shows whether the application functions as desired or where adjustments are required. With the Proof of Concept, Linde provides companies with a reliable decision-making basis for or against automation.