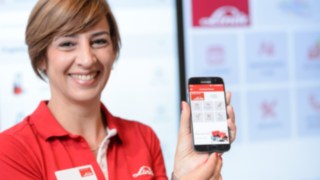 If there are problems with trucks, quick help is needed. However, the transmission of a service order by telephone often means that callers "hang" in a queue. Even the details of the exact fault can usually not be transmitted precisely over the phone. The Linde Service Manager, which will be presenting at the World of Material Handling, can help. The tool simplifies the management of service orders and ensures efficient processing. To this end, Linde is setting up the Service Manager at the company. Afterwards, Linde Service Manager can be used with IOS or Android apps and as a web version. The app then accesses the vehicle data stored with the Linde service and sales partner.
In the event of a fault, the fleet manager only has to select the respective truck in the Linde Service Manager or via the QR code on the truck and specify the fault using a pre-defined fault code and description. This eliminates the need to laboriously determine the serial number. If required, photos of damage or faults can also be added to the order so that a technician can get a first impression. The order is then sent to the service technician and further service progress can then be tracked in real time in the app. For example, the service technician signals using the app when he has accepted the order and when he is on his way to the vehicle. After completing maintenance or the repair the fleet manager receives the service report via the app. In addition, the vehicle is released for operation again.
Drivers or shift managers can also use the Linde Service Manager. They see the vehicles they use in the app and can notify the fleet manager if they detect defects on the forklift. If the fleet manager releases the notification, a corresponding service order is automatically triggered. A calendar overview and a traffic light system for the service status of the vehicles also help to keep an eye on vehicle availability, maintenance planning and the legally required test dates. Linde Service Manager makes the service process easier, more transparent and more efficient for companies.