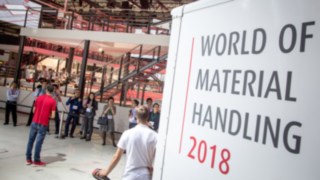 All about simplexity
The WoMH 2018 is all about simplexity. What this means is now clear: to make complex processes as simple as possible to manage for the customer. And it is not only Linde Material Handling itself that contributes to this, but also our partners.
Have a look at Simplexity in pictures!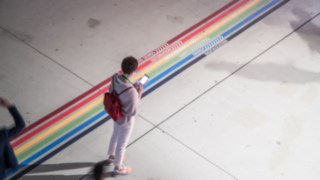 Which way do I have to go?
The WoMH 2018 motto will not only be implemented when it comes to products. It should also be made as easy as possible for visitors on site. The colourful stripes that stick all over the ground make sure that everyone knows where to go. Simple but effective. Balance after one week: 1,025 meters of adhesive tape were used up in six days of WoMH. A total of 500 arrows are used as signposts.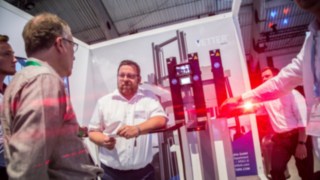 How do I precisely hit the pallet?
Our colleagues at Vetter sell the "SmartFork". This intelligent fork combines electrical elements - namely camera and line laser - with a steel fork. This not only improves the driver's vision, but also makes it much easier to aim and pick up the pallets.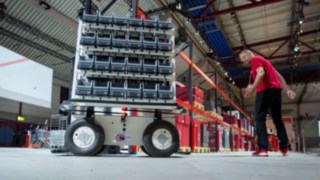 How can I pick more easily?
The French e-commerce company balea presents the e-bot at the WoMH. The automated order picking vehicle has 48 weighing units that can process goods of different weights in parallel. The e-bot adapts to the speed of the order picker, follows and stops.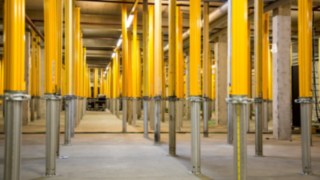 And did you know...
... who else supports the WoMH? Hundreds of visitors come to the World of Material Handling every day. And our exhibits are not exactly lightweight either. It adds up in terms of weight. With vehicles weighing several tons, the elaborate props and the many guests, the floor of the Maimarkthalle is under a lot of strain. Therefore, 906 steel supports provide stability in the cellar. They were put up there especially for the WoMH.