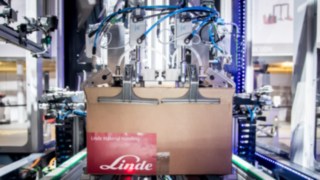 At the World of Material Handling, Linde will use an exemplary production environment to demonstrate how the automation solutions from Linde and its partners can be used to map the entire production process logistically. "Reducing sealer" is the official term for a packaging machine that can do much more than just pack.
Linde's technology partner e3neo offers a system for fully automated, ready-to-ship packaging of goods in cartons. In a first step, a machine folds the cartons so that they can then be loaded manually or automatically with delivered goods. A sensor measures the maximum height of the goods in the carton and cuts them up to this height. If necessary, the system now secures the goods against slipping by means of shrink film. In the next step, the carton is closed and glued with a lid at the cut height. This avoids unnecessary empty space - an important factor for later shipping, especially in view of the increasing mail order business. Finally, the system applies a shipping label to the cartons and transfers them to subsequent systems for further shipping.
e3neo is currently the most compact and fastest height-reducing sealer on the market. Around 900 cartons per hour can be made ready for dispatch in this way. With the e3neo system, Linde offers companies an important building block for their production processes in order to automate the flow of goods as seamlessly as possible.