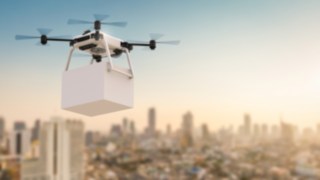 Flying warehouses and underground transport pipelines: As the traffic in large cities makes life more and more difficult for logistics companies, they are looking for alternatives. They are developing approaches that still sound like science fiction, but could soon become reality.
Germans spent 457,000 hours in traffic jams in 2017, a large percentage of those in city traffic; This is because big cities are getting fuller and fuller, especially their streets. In the 1950s about half of the population lived in cities; today it is three quarters. Studies show that many European cities are growing faster in terms of jobs and population than the countries in which they are located. Experts predict that urbanization will reach 83 percent by 2050.
This will have serious consequences for logistics. There is an increasing demand for residential space in cities, which often requires commercial premises. This forces logistics companies to relocate their warehouses to the outskirts of cities and to accept longer delivery distances. At the same time, the volume of parcels is increasing because of online trading; small-scale individual orders and various delivery points are fragmenting the delivery processes.
As a result, the delivery traffic in cities is increasing noticeably, which is not without its problems. Delivery services are already causing 80 percent of inner-city traffic jams because they park their vehicles on the road. No improvement is yet in sight. The German Ministry of Transport's forecasts of transport links predicts that freight transport on roads will grow by around 40 percent between 2010 and 2030.


Warehouses in the Sky
No wonder that companies are looking for alternatives so that they forgo the streets. The logistics of the future are oriented in new directions: up and down.
Looking upwards, the idea is to say goodbye to horizontal, large-scale warehouse on the outskirts of the city and erect high-rise warehouse buildings in central locations. This reflects the fact that the function of many warehouses has changed over the years. Formerly used mainly for warehousing, now they are often places for the fast turnaround of goods.
Warehouse High-rises Across Europe
The Ney Warehouse
This three-story warehouse with access ramp is located in the 18th arrondissement in Paris. It has a logistics area of 120,000 square meters and is located directly at a large junction on the Paris ring road with good access to the Greater Paris area.
Pantin Logistique
The warehouse is located close to the Boulevard Périphérique ring road in Paris and has a storage area of 150,000 square meters. Famous companies such as Louis Vuitton, Hermès, and La Poste use this location.
X2
X2 is located directly at London's Heathrow Airport and has 21,775 square meters of storage space. It consists of a ground floor and an upper floor, which is divided into four units. Each unit has six meters headroom and access gates on two floors.
Such logistics high-rises are already common practice in large cities in Japan, Singapore, Hong Kong, and China. In Europe they are still dreams for the future. However, recently buildings have started to adopt this approach in major European cities. For example, the X2 building at London's Heathrow Airport, which was completed in 2008.
Amazon wants to go even higher. In 2016, the American shipping giant patented the idea of a flying warehouse. Fulfillment centers hovering above the rooftops are to serve as mobile ports of call for delivery drones. Up till now this is still theoretical.


Tunneling to the City Center
By contrast, other plans are leading into the depths. In some city centers, there are already initial attempts to operate multi-story logistics hubs underground. For example, Chronopost maintains two basement facilities in Paris's city center. The first was opened in 2005 and is located in a former municipal parking garage under the Place de la Concorde. The second followed in 2013 and is located in Beaugrenelle under a building on the quayside of the Seine.
Another method is the use of underground freight pipelines. Mole Solutions has carried out a related feasibility study on behalf of the British government. The plans envisage linking urban hubs through pipelines to consolidation centers on the outskirts.
Driverless, power-driven capsules transport goods along an underground route, ideally around the clock. Electric vehicles or bicycles will carry the goods for the last mile to the customer. Following successful tests, Mole Solutions has received approval for a pilot project in Northampton.
Experiments with pipelines are already under way in other countries. Examples include the CargoCap system in Germany, the PipeNet concept in Italy, and the Tube Cargo Express (TCX) in Belgium.