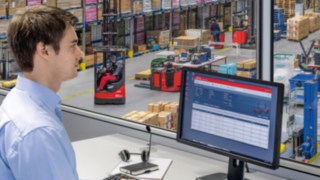 Networking to Add Value
The digitalization of business processes is a powerful tool for creating efficiency and added value in intralogistics and also opens up unprecedented opportunities where safety and flexibility are concerned. In order to take advantage of the full potential of digitalization, companies need to have an overview of all their data and processes, as well as system compatibility and the necessary interfaces.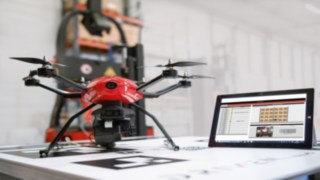 Digital as Standard
Linde industrial trucks are designed for digitalization as standard. In other words, they already have the necessary connection points and components, or these can be easily retrofitted. This means that, when purchasing Linde forklift trucks, companies can be confident that they can take advantage of all the possibilities offered by digitalization—from assistance with individual process steps to the complete solution. Maximum impact can be achieved through extremely simple means here, for instance, by using an app in place of paper.
Digital Decision-Making Aids
Transport Jobs from the Truck Call App
The Linde Truck Call app is a straightforward system that has a considerable impact on the work process. The app removes the need for a driver to be personally assigned. The transport job is simply entered in the system via smartphone or tablet. The fact that an urgency level is assigned means that there are no conflicts with other transport jobs.
One very convenient feature is the way that extra information can be added to the job with photos, documents, and comments. Once the job has been entered in the system, the app notifies all available drivers. If one of them has free capacity, they accept the job on their smartphone. Once the journey has been completed, the shift manager receives immediate confirmation from the driver.
Especially in smaller companies, fleet managers have to cover many tasks and therefore have little time to find the right forklift truck for a specific job on the premises. In the future, they will be able to find one while sitting at their desks. Using the app thus simplifies communication between shift managers and drivers, helps to avoid empty runs, and ensures optimal utilization of the fleet.
Truck Call App in action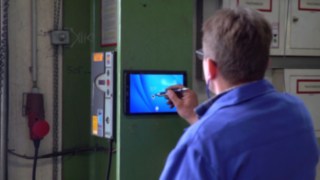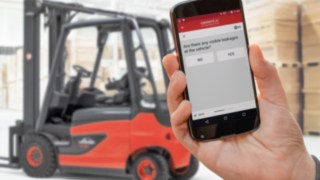 Forklift Truck Check via Smartphone
One of the simple routine measures that can significantly increase safety is a forklift truck check before starting the truck; Even better when the check is particularly easy to carry out. Where drivers are equipped with a smartphone or tablet, the "pre-op check" app from Linde Material Handling can help them with these daily safety checks. Instead of filling out a paper form, employees answer questions about the forklift truck status on the touchscreen. The forklift trucks can only be started once this check has been successfully completed.
Keeping the Fleet under Control
Who, where, and how?
Which forklift truck is not being used? Where do bottlenecks occur? Is the speed observed in hazardous areas? When can maintenance best be scheduled and damage avoided? The connect fleet management system can answer these and many more questions, making the deployment of your fleet safer and more efficient.
Fleet Management for All Forklift Trucks, Requirements, and Fleet Sizes
The Linde connect fleet management system is a straightforward, comprehensive solution for the networking and data analysis of intralogistics fleets, regardless of location, fleet size, and manufacturer. Sensors and data modules on forklift trucks document their status and movements, and use standard transmission channels such as Bluetooth or WiFi to send data to local or cloud-based servers. Fleet managers and technicians can access this data from desktop computers or mobile devices. The choice of functions is completely flexible: Companies can use basic functions such as electronic, driver-specific access control connect:ac access control or damage monitoring connect:dt crash detection and can also perform wide-ranging usage analyses using connect:an usage analysis or carry out comprehensive capacity planning with connect:dt operating hours .
More about connect: