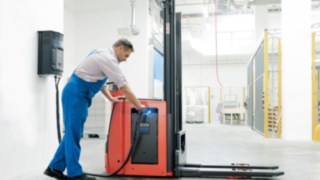 Compatible for the Future
With the trend for sustainability and the global energy revolution, recent years have seen the emergence of economically viable alternatives for the energy supply of industrial trucks. These bring with them a whole range of operative benefits in comparison to conventional systems. Depending on the requirements, they are more cost-effective, more efficient, and safer than IC trucks, for example. As such, industrial trucks with lithium-ion batteries or fuel cell power are gradually coming to the fore. Linde is a pioneer in the most promising technologies for the energy revolution in intralogistics.
INTELLIGENT COMPLETE SOLUTIONS FROM LINDE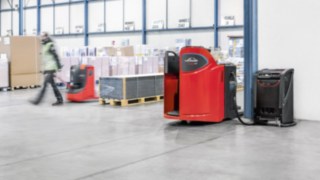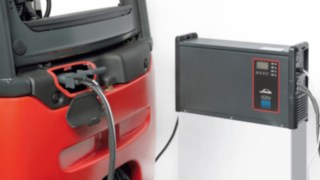 Proven Systems for all Requirements
Linde Material Handling is driving forward the optimization of established energy systems, such as lead-acid batteries, while at the same time developing entirely new systems. Already today, there are effective, proven and safe complete solutions available that are based on lithium-ion batteries and fuel cells and can be tailored to companies' requirements. With the transition from the pilot stage to day-to-day operations, companies increasingly need to ensure that their infrastructure is compatible for future technologies. As an intralogistics solutions provider, Linde enables the seamless and cost-effective planning, implementation, and operation of these modern energy systems –— if necessary, as a turnkey solution.
Lithium-ion Technology for Top Performance
Truck availability represents a challenge for electric forklift trucks. In the past, combustion engines had the edge here. However, with advances in lithium-ion technology—from proven applications like smartphones to use in industrial trucks—the situation has changed considerably. Lithium-ion batteries provide users with significant operative advantages in comparison to lead-acid batteries and are therefore set to supersede traditional technology. Making the switch is extremely easy and Linde can help you to calculate the cost-effectiveness before you decide to switch to lithium-ion batteries.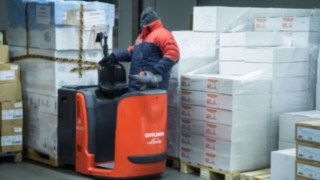 Powerful, Clean, and Safe to Use
Advantages like fast interim charging and uninterrupted performance come to the fore particularly in energy-intensive usage in refrigerated warehouses, multi-shift operation, or the beverage industry.
The elimination of contamination through battery gases and acids means that industrial trucks with lithium-ion batteries are also suitable for use in application areas with demanding hygiene requirements, such as in the pharmaceutical and food industries.
Success Stories on the Use of Lithium-Ion Batteries
Fuel Cells for Flexible, Long-Term Use
Hydrogen is the most common element in the universe so it makes sense to use it for energy recovery. That said, the development costs involved were so huge that a budget from NASA, among others, was required in order to finally make the idea for a hydrogen-driven fuel cell a reality. The result combines the countless advantages of a lithium-ion battery with an even higher level of availability, a particularly long service life, and exceptional sustainability. Whether or not fuel cells are the right energy system for a particular application depends on the specific infrastructure requirements and the operating conditions in question. Linde advises companies here with requirements analyses and feasibility studies and, if required, then implements the project from start to finish.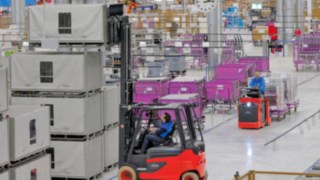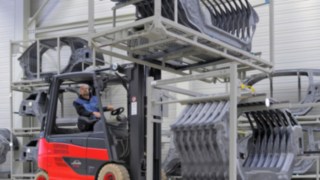 Energy System for the Toughest Requirements
Fuel cells can offer major advantages for some industries. They are ideally suited to any application where a high level of availability and a consistent level of performance are required. This especially applies, for example, to production environments in the automotive industry or in demanding multi-shift operations in the online mail order sector. Clean technology is also an ideal solution wherever hygiene plays an important role, such as in the pharmaceutical and food industries.
Practical Examples of Fuel Cell Technology in Use