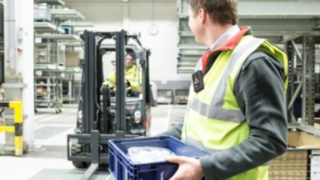 Safety is Core Business
The statistics of German Social Accident Insurance (Deutsche Gesetzliche Unfallversicherung – DGUV) alone revealed that there had been 33,000 accidents involving industrial trucks in 2016. These can entail operational downtime, damage to forklift trucks, shelves, or infrastructure, and, in the worst case, personal injury.
However, companies often lack the necessary resources and know-how to fundamentally improve the safety of their operational processes. It is against this background that Linde has developed comprehensive solutions integrating technical, infrastructure, and organizational measures.
Every Accident Is One Accident Too Many
Linde has big plans; Specifically, it has the goal of completely preventing accidents. A whole host of factors need to be taken into account for this: the size of the fleet, the site conditions, existing safety standards and processes, material flow planning, and employee behavior. By taking an integrated approach, this vision of accident-free intralogistics could become a reality. Linde has developed a comprehensive approach to safety that helps to protect people, forklift trucks, infrastructure, and goods.
Integrated Approach to Safety
With "Vision Zero. Safety in your world." the focus moves away from individual hazards and measures. In line with this vision, Linde has developed a comprehensive approach to safety that helps to protect people, forklift trucks, infrastructure, and goods. Customers can choose from an extensive portfolio of safety functions, retrofit solutions, visibility options, and intelligent assistance systems and consulting services. The starting point for implementing a safety concept in a company is the systematic analysis of the initial situation.
Safety in All Areas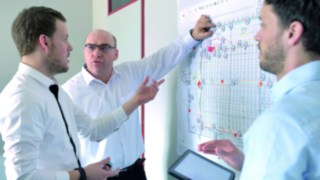 Standards and Extras for Maximum Safety
Safety as Standard
The requirements for modern industrial trucks and their operators are rising all the time. The risk of accidents is also rising at the same time. That is why Linde sets high safety standards in the development of its forklift trucks and warehouse trucks. All forklift trucks have numerous design and equipment features as standard that help to increase safety. From the protective structure of the driver's cab to optimum all-round visibility, the forklift trucks enable safe and efficient handling.
Additional Equipment Relating to Safety
Forklift truck lighting also helps to improve safety. The LED Stripes are light strips which attach to the front and rear overhead guard of counterbalanced trucks. They ensure the optimal distribution of light in close-up range. Linde VertiLight in turn primarily provides assistance with storage and retrieval processes involving shelves with its LEDs arranged in a semicircular way that are mounted on the mast. These provide the best possible illumination of the working area from the floor to the lifting height.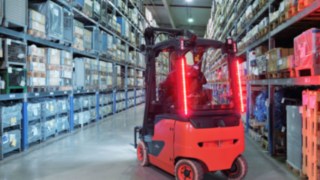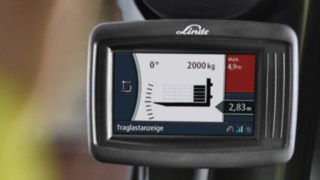 The Linde assistance systems include the Linde Safety Pilot, which acts as an intelligent passenger providing assistance during handling, the Dynamic Mast Controlto compensate for mast oscillations, and Linde BlueSpot™, which increases safety in narrow working areas by means of a light signal. Solutions such as Linde SpeedAssist and Linde CurveAssist automatically adjust the drive performance and the maximum speed to the surroundings and the driving situation. With its digital fleet management solution connect: Linde offers numerous functions to increase driver safety, such as personalized access control, electronic damage monitoring, automatic transmission of error codes, and analysis of usage data.
Safety Scan for Comprehensive Safety
Safety First
Linde Safety Scan is an innovative, structured range of consulting services. Its comprehensive approach to safety helps to protect people, forklift trucks, infrastructure, and goods. Its development drew on Linde's decades of experience in intralogistics, the latest techniques, and innovative safety solutions. Specially trained Linde Safety Consultants guide companies step by step from the systematic analysis of hazards on site through individual recommendations for action to the implementation of organizational and technical solutions. The companies themselves then decide completely independently whether they will implement the recommendations and which providers they will use for this. This helps us to ensure that our consulting services are as neutral as possible.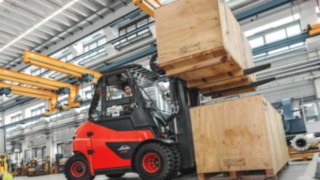 Customer Case Study