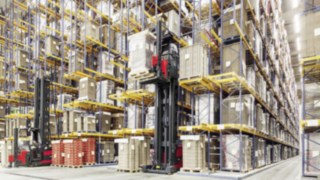 Digitalization is changing processes, products, and business models in intralogistics. But what technology will really help? And how can logistics companies use it to their advantage? The German Logistics Association is looking into these questions in its study "Trends and Strategies in Logistics and Supply Chain Management." The results of the study are extremely interesting, and not just visions of the future.
A Picavi GmbH warehouse employee in Aachen puts on a pair of glasses. These are not just any glasses, but data glasses with a built-in barcode scanner. They provide the wearer with visual assistance throughout the picking process and help them with each work step. The scanner verifies packages automatically as soon as they appear in the glasses wearer's field of vision. The time saving compared to the work process without data glasses is an incredible 40 percent.
The authors of the study "Trends and Strategies in Logistics and Supply Chain Management" are on the search for potential gains such as this. As part of this, they consulted literature and questioned 38 established experts in management roles in logistics and supply chain management. They surveyed a further 363 experts online and then discussed the results in six focus groups with logistics specialists from business and academia, and discovered 15 megatrends.
Trends come internally and externally
Top Three Internal Trends
Digitalization of business processes
Transparency in the supply chain
Automation
Top Three External Trends
Price pressure
Individualization
Complexity
The authors of the study made a basic distinction between internal and external trends. Internal trends develop within companies, while external trends are ones imposed on them from outside.
External and internal trends are often closely linked. Increasing automation has an impact on personnel policy, for example. Companies that manage internal trends successfully report that they are also able to adapt more quickly to external trends.
The companies surveyed for the study consider the following to be the most important in terms of internal trends: digitalization of business processes, transparency in the supply chain, and automation. This is the case for medium and large companies in particular.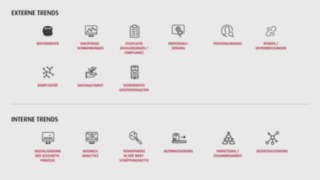 Taking Advantage of Opportunities and Reducing Complexity
The following help intralogistics companies to kick start their digital transformation:
a high innovation speed
a basic digitalization strategy instead of lots of individual projects
a clearly organized IT system.
The authors of the study believe that digital technologies provide "historic opportunities" for reducing complexity in goods flows and boosting productivity at the same time. Their surveys found that around three quarters of the companies surveyed consider the megatrends described to be important, but more than half want to wait until tried-and-tested solutions are available on the market.
The first and most important step in digital transformation is a clearly organized IT system. Standardizing data—and interfaces—internally and across all stages of the supply chain makes it possible to carry out a forward-looking market analysis and optimize data flows accordingly.
In order to be able to benefit from the opportunities presented by digital transformation, it is essential that companies first develop their own internally coordinated understanding and anchor this firmly in their strategy, thus laying the foundations for the necessary corporate changes.
German Logistics Association (Bundesvereinigung Logistik – BVL)