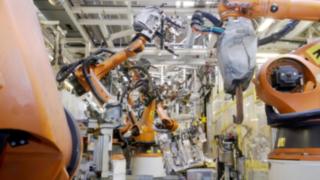 Tomorrow's customer will have a greater say than ever in the way companies do business. They will order billions of packages, and tailor each product to their requirements. This will undoubtedly pose huge challenges for the logistics sector. However, there are already some potential solutions in the pipeline.
In 2017, Deutsche Post delivered 1.3 billion packages in Germany alone—more than ever before. This figure is expected to rise even further in 2018. In order to deal with this rising tide of cardboard-packaged goods, logistics companies and operators are continuing to promote automation.
We do it in front of the TV, on the train, and at work. We do it before breakfast, during dinner, or even in the middle of the night. A couple of taps on our touchscreen and another product is ordered. We buy what we want, when we want: With companies like Amazon and Zalando available at all times from anywhere, there are no longer any constraints on our individual buying impulses. We can have whatever we want on our doorstep the very next morning. This has consequences, primarily for the logistics sector.
Does the future belong to the shuttle?
In the future, small, maneuverable load carriers, known as "shuttles," could be used to take on essential tasks within automated internal transport systems.
At present, shuttles are still primarily used in channel racking systems: A handling unit sets them down in front of the racks, which are organized into channels. The shuttle then travels along a rail profile and collects the required goods.
Shuttles work autonomously and are easy to network. This allows them to organize themselves and to clarify which one will carry out which task and travel which route, without the need for human intervention. The benefit of this to the factory of the future should not be underestimated.
Dematic is already offering automated shuttle storage systems, which can be used for the storage and retrieval of cartons, small parts or packages, and also for handling containers. The Dematic Multishuttle 2 undertakes tasks such as storage, order picking, and order collection, among others.
Challenge: Huge Volumes of Data
The process of automation generates huge volumes of data and metadata right along the value chain, and increasingly sophisticated software is required in order to manage this high degree of complexity. Sensors and actuators with increasingly high performance need to be developed to network a supply chain in a truly intelligent manner.
In the future, according to experts, the challenge for intralogistics will primarily consist of combining processors, control elements, and software into one harmonized, ergonomic, and powerful system, which is capable of efficiently controlling these huge volumes of data. The use of artificial intelligence to optimize these processes via self learning is the next logical step here.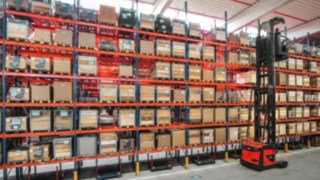 Mass Production of Custom Items Thanks to 3D Printing
Batch size 1—customized products for every customer—will pose a rather different set of challenges for logistics in the future. The digitization of production is already enabling companies to produce individual items to order today and this trend is set to intensify in the coming years. From cars to PCs to printed t-shirts: In the future, custom items will become the norm. The buzzword here is "Mass Customization." One of the most ambitious and promising approaches for customizing mass-produced items is 3D printing.
The problem here is that conventional warehousing and material handling technology is designed to store and move large amounts of homogeneous parts together. Now, thanks to 3D printing, individual items are being produced and sent directly to the consumer. As such, the need for storage is set to rise in the future. Many logistics experts are therefore adopting the approach of merging production and distribution warehouses into one entity and designing scalable materials handling systems.
This could be achieved through a combination of shuttles and driverless transportation systems. Systems like this can be used flexibly and can easily be adjusted to meet requirements. The individual elements are networked to form a self-organizing logistical system. In practice, it could look like this: Automatic transporters travel to fully automated machines, robot/human manufacturing stations, or order picking locations and supply them with the required material according to each individual customer request.


The Smart Workpiece
It's not all about smart vehicles and factories though—in the future, the workpieces themselves will also be intelligent and will play their own part in production and distribution processes. In order for this to work, the individual workpieces will need to be identifiable via a digital ID with a description of all product features. At present, for example, this can be achieved using radio-frequency identification, or RFID for short.
In this way, the logistical value chain is gradually converging with the Internet of Things. In just a few years, the smart workpiece will be able to report its own material requirements to the warehouse so that parts lists for forthcoming projects can be adjusted accordingly. Then, if required, fresh supplies can be ordered in advance. The customer will also be able to track the production status of their goods in real time online as soon as they have ordered. Customization is set to reach new heights.