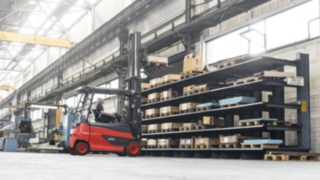 Pallets used to be just inanimate wooden objects but now they are being taught to see, hear, and think thanks to digital networking. The European Pallet Association e.V. is testing how this would work together with the Fraunhofer Institute for Material Flow and Logistics (Fraunhofer-Institut für Materialfluss und Logistik – Fraunhofer IML).
Eleven boards, nine wooden blocks, 78 nails, 1.20 meters long, 80 centimeters wide, 14.4 centimeters high: The standard Europallet is currently the most important carrier in European logistics. Packaging, means of transport, and entire material handling and warehouse technology systems are designed around the standardized pallets used by the European Pallet Association e.V. (EPAL) to keep warehouse and delivery operations running across Europe.
It is almost impossible to imagine day-to-day logistics tasks in our part of the world without the Europallet. A classic wooden model that does not require any further improvement. Or does it? With increasing digitalization in the logistics sector, calls are growing for a new generation of pallets. The wooden transport structure of the future needs to be intelligent and able to communicate: alert, sensitive, and communicative.


The Prototype
EPAL's open pallet exchange pool is the largest in the world with more than 500 million Europallets. EPAL pallets are used in nearly all sectors and the vast majority of warehouse and transport systems across Europe are tailored to their standard dimensions. What would it be like if these pallets could hear, see, and speak? What would they be able to tell us?
EPAL worked together with the Fraunhofer Institute for Material Flow and Logistics (Fraunhofer-Institut für Materialfluss und Logistik – Fraunhofer IML) to create an initial prototype of the interactive carrier of the future. The product of this work astonished visitors when it was presented at the international logistics trade fair LogiMAT in Stuttgart in March 2018. The smart pallet is the result of a joint research and development project between Fraunhofer IML and Deutsche Telekom. The project came into being at the Telekom Open IoT Lab founded in 2017, where hardware prototypes are developed for the Internet of Things.


The Europallet in numbers
Weight of 25 kilograms
Width: 1.20 meters
Length: 80 centimeters
Height: 14.4 centimeters
78 nails
9 wooden blocks
11 boards
Module in Wood
At the heart of the smart pallet is a Deutsche Telekom machine-to-machine module based on "NarrowBand IoT" wireless technology. The module is fitted in a particle board block, which is integrated into the pallet together with the other wooden elements. The module is not reliant on an external power supply as it is powered by a battery with a ten-year service life. It sends small data packages at regular intervals, which provide information about the status of the pallet: about the type of load, the current location, accelerations and movements that have been detected, or the ambient temperature.
The module records this environment and handling data via integrated sensors and then sends it to the internet. The prototype that has been unveiled is G5 compatible and comes with a SIM card. Anyone wishing to use the stream of information, for instance to optimize their own logistics, can simply book a flat rate.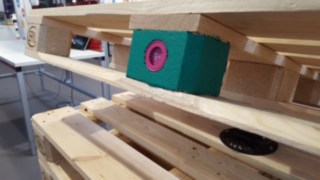 The key element of the smart pallet is a machine-to-machine module from Deutsche Telekom.
Source: Fraunhofer Institute for Material Flow and Logistics (Fraunhofer-Institut für Materialfluss und Logistik).
Unnecessary Empty Pallet Movements
Anyone who thinks that this is a gimmick thought up by technophiles is being too short-sighted. Smart pallets that communicate their locations at all times, provide information about their current load, or can disclose their history of use have numerous benefits for logistics. Some estimates assume, for example, that just 10 to 15 percent of physical empty pallet movements are actually necessary. If all the pallets in a supply chain were networked via a central point, the 85 to 90 percent of unnecessary empty movements could be significantly reduced through better coordination. The logical consequences of this would be considerable cost and efficiency benefits.
Smart pallets would bring significant advantages for EPAL too, for instance in its attempts to protect itself against counterfeit products. Lower-quality fake pallets are regularly smuggled into the EPAL pool. The majority of them come from Ukraine. In 2015, checks carried out at the Slovakian and Polish border uncovered around 15,000 fake pallets in the month of May alone.