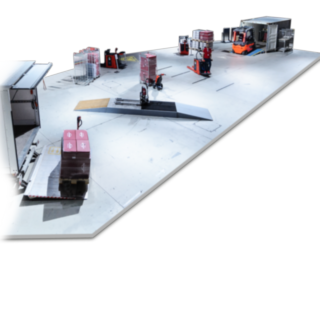 Optimal Handling when Loading and Unloading
The user faces particular challenges when loading and unloading. This is often the case in narrow space conditions—for example when items are delivered in an urban environment. Precise maneuvers, for instance with pallet trucks or small electric forklift trucks, are therefore necessary on the loading platforms. Adverse ground conditions such as uneven roads, paving stones or curbs must also be overcome.
When loading and unloading on company premises, it is necessary to transport heavy loads in and out of trucks and containers and to move them over very different ground conditions or loading ramps. Counterbalanced trucks, i.e. electric or IC trucks, or pallet trucks are normally used for this.
Despite the challenging conditions, handling should be carried out in a very efficient, productive, and safe manner. In the World of Material Handling, Linde provides solutions which address these challenges in both areas of application. Particular highlights include compactly designed trucks, special warning lights, and an order placement app.
Narrow Trucks for Narrow Conditions
For loading and unloading, Linde offers a range of new, narrow trucks which make handling easier and safer in narrow space conditions. This includes the flexible T20 AP, which can be transformed from a pedestrian model into a platform truck if necessary. The compact D10 and D10 AP double-deck loaders are ideal for especially productive loading and unloading. With a width of 720 millimeters, they are narrower than a Europallet. The compact and flexible construction helps to reduce damage to the sides of the truck or adjacent items. The driver's cab, which is separated from the chassis, ensures vibration-free operation on uneven surfaces. In addition, the Lindeconnect:dt crash detection function can identify and—where necessary—avoid particularly problematic floor areas.
More power for light applications
Linde offers a powerful alternative to pallet lift trucks, especially in the city for fast loading and unloading of trucks, but also for fast moving of pallets in the warehouse. The new electric pallet lift truck MT12 in particular is a compact helper: it transports loads of up to 1.2 tonnes and its compact design makes it ideal for confined spaces. The lithium-ion battery supplies the device with energy for up to three hours and, if required, 50 percent charging capacity is reached after only 30 minutes charging time. Another important helper in this light range trucks is the MP13, a pedestrian tow tractor that moves smaller logistics trains with loads of up to 1.3 tonnes at speeds of up to 4.5 kilometres per hour. Using various hooks, he can also pull lined up baggage or shopping trolleys at airports and train stations, as well as rollable wire baskets such as those used by retailers.
LED Stripes for Safe and Efficient Maneuver
There is an increased accident risk when using counterbalanced trucks in narrow space conditions. The electric forklift trucks from Linde have a very compact and flexible design. The illumination of the trucks also contribute to their safe and efficient operation. LED Stripes strip lights that are attached to both the front and back of the overhead guard in counterbalanced forklift trucks ensure optimum distribution of light in the area immediately around the truck, and wrapping foil is used to reduce distracting glare effects which are common in conventional headlights. They automatically change color when the direction of travel is changed— when reversing, the tail lights are white and the front lights are red. People in the vicinity will know immediately which maneuver a truck is performing.
Unmissable Thanks to TruckSpot™
In the tight—and often noisy—loading and unloading conditions, there is an effective way of warning approaching trucks: light projection. The Linde TruckSpot™ projects a noticeable traffic symbol onto the floor, and therefore warns other drivers or pedestrians that a truck is approaching. In this way, the TruckSpot™ easily increases safety easily and effectively.
Order Placement with the Truck Call App
Informing drivers of current orders can be very time-consuming. Thanks to the Linde Truck Call Appthe effort is reduced. The transport task is simply entered in the system using a smartphone or tablet, and clarified using photos, documentation, and comments if necessary. All available drivers will receive a notification. A driver with spare capacity accepts the order by smartphone. Once the order has been completed, the supervisor receives a confirmation. The app therefore simplifies communication between shift managers and drivers, helps to avoid empty runs, and ensures optimal utilization of the fleet.