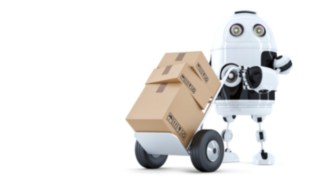 The last mile is the biggest challenge in modern urban logistics: It is immensely important, yet also expensive. Companies are in search of the promising solutions of the future by using bicycles, drones, and robots.
Today when someone rings at the front door, it is probably a courier. In 2016 alone, couriers have transported more than three billion parcels within Germany and the Federal Association of Parcel Services and Express Logistics (Bundesverband Paket und Expresslogistik – BIEK) estimates that by 2021, it will already be up to 4.15 billion. When it comes to deliveries, one thing is always important for customers: Speed. According to the Federal Office of Consumer Protection and Food Safety (Bundesamt für Verbraucherschutz und Lebensmittelsicherheit – BVL), 17 percent of customers want their package on the same day and 64 percent after three days at the latest.
It all comes down to the "last mile" in terms of delivery speed—in other words, the relatively short route leading up to the customer's front door. Unfortunately, it is precisely here where complications lie in wait. Customers are, for example, frequently not at home, which is why packages often have to complete the last mile several times. That is what makes this part of the delivery very expensive: Within the industry, a realistic shipment estimate would be 3.50 euro per order.
Additionally, customers are hardly willing to pay a price for those last few meters to the door. It is because of this that e-commerce is still regarded as less profitable for retailers. Even large parcel service providers have difficulty managing cost-effective service for the last mile.
The Biking Carrier
It's no wonder then, that companies are increasingly looking for better, more promising solutions for the future. One of these approaches relies on the increased use of bicycle couriers. According to forecasts, the volume of transport in is set to increase rapidly the coming years. The consequences are obvious: Traffic jams and stop-go traffic make punctual deliveries even more difficult than they are now. In crowded inner cities especially, the easy-to-maneuver bikes could bring a real speed advantage.
Still, it is mainly smaller companies that offer bicycle logistics services. But that is already changing: DHL Express, for example, already employs bicycle couriers in some European cities throughout the Netherlands, France, the United Kingdom, and Italy.
Urban Drones
Other scenarios forgo human couriers altogether and focus on the possibilities of modern technology. One idea is to perfectly develop delivery drones and use them in large numbers to tackle the last mile. However, the prevailing circumstances are currently not yet optimal. Even with sophisticated technology, legal and operational requirements make it difficult to use drones in urban areas. Nevertheless, the first tests in this direction are on-going.
In the UK, for example, Amazon entered into a partnership with the Civil Aviation Authority several years ago to test drone delivery. The first successful delivery demonstrated right away this method's potential: In December 2016, an Amazon package drone delivered a Fire TV video-streaming stick and a bag of popcorn— the customer only had to wait 13 minutes for the order.


Robot at the Front Door
Even more futuristic is the plan to have packages delivered by robots, however, some companies are already very serious about this idea now. The company Starship Technologies, for example, develops delivery robots that move at a good pace of four miles per hour within a radius of less than two miles. They are currently being tested in cities such as London and Hamburg. Since they are cost and energy efficient, experts consider them a realistic option for the future of last-mile fulfillment,
however, the robots can only operate within a very limited radius. For this reason, there are deliberations to use them mainly in local delivery hubs that are scattered closely within an urban area. It may take only a few years for them to completely change the appearance of a bustling city center.