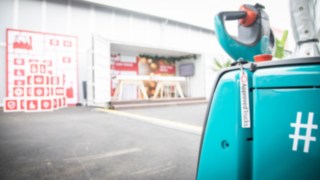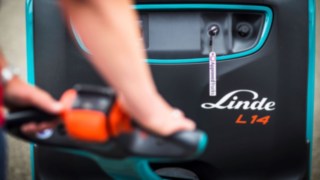 Used? Approved!
20 Jun 2022
Three questions for: Matthieu Mazzega
Linde Approved Trucks: Always available
Thanks to Linde's wide range of used trucks, customers can always buy a truck exactly when they need it. Linde has a large number of used trucks in stock at all times and can therefore process all orders quickly and deliver the trucks at the appropriate time. All used trucks are overhauled according to a standardized procedure. Each vehicle is dismantled in the process in order to inspect, repair or replace all individual parts. In this way, Linde ensures that all used trucks always meet the highest quality standards.
A used truck that has been professionally remanufactured by Linde Material Handling is an efficient and cost-effective alternative to a new vehicle. Matthieu Mazzega, Senior Director Rental and Used Trucks, explains to us when to choose a used truck and what options Linde's new Approved Trucks program offers.
Matthieu, suppose we'd like to buy a forklift from you here and now. Can you get us excited about a used one quickly?
Like our new trucks, our used trucks deliver performance, efficiency, ease of use, versatility, safety and reliability. We remanufacture all Approved Trucks to the same rigorous standards that apply to all Linde trucks. This ensures strong performance in any environment, whether as a stand-alone solution or as part of a larger fleet. In modern intralogistics, what matters is fast availability, efficiency and flexibility. And that's in the face of ever-increasing price pressure, which can be felt across all industries. Our Linde Approved Trucks meet all the demands placed on a high-performance vehicle, while at the same time offering a cost-effective alternative to new vehicles. And thanks to our comprehensive sales and service network, support is always close at hand.
Now can you tell us how your new Approved Trucks program differs from the previous one?
The new program offers even more benefits and options without compromising on Linde's premium quality standard: Not only do customers have access to a wide range of remanufactured trucks, they can also customize each individual feature to meet their specific requirements. To this end, we have developed a whole range of different packages that can be combined according to the modular principle to create the right solution. There are function packages that define vehicle features such as energy system, safety and comfort. They are based on Linde technology, which is also used in the latest vehicles. There are also various service and maintenance packages.
When it comes to the high-quality refurbishment of vehicles, one almost automatically thinks of the issue of sustainability...
Yes, of course. Choosing a high-quality Approved Truck from Linde also makes a significant contribution to resource conservation. The longer the service life of a truck, the fewer new vehicles need to be built. Our standardized reconditioning process meets the highest environmental and safety standards and increases the service life of the vehicles. Remanufacturing reduces the total amount of raw materials consumed, significantly reducing the product's environmental footprint. Environmental and climate protection can hardly be done in a more sustainable and sensible way.
Dear Matthieu, thank you very much for the interview.