What was to be discovered at the #WOMH2022
Our solutions, your success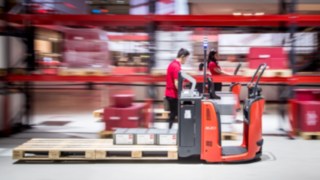 For a future-oriented intralogistics operation, it is not enough to look at processes and workflows alone. New solutions must be flexible, scalable and efficient - and at the same time safe and resource-efficient. They should make complexity controllable and contribute to value creation.
#WoMH2022
We were showcasing many of our newly developed vehicles, safety and energy systems, software tools, and consulting services at the World of Material Handling 2022, that will help you make your internal processes more economical, transparent, safe, and climate-friendly.
The offerings associated with forklifts and warehouse trucks can be found in the solution areas of Intralogistics & Automation, Safety, Energy and Digitalization. Our flying reporter duo captured insights into these areas here.
Intralogistics & Automation
Highlights Automation
Driverless tow tractor P-MATIC with automated tugger trailers
Second generation of the automated reach truck R-MATIC
Autonomous mobile robots with transport tables for assembly line supply
No two intralogistics environments are alike. That's why it takes comprehensive knowledge of how processes work in different industries to optimize and scale these processes and make them fit for today's and tomorrow's requirements: Which repetitive tasks can be automated in a meaningful way? Where can employees be deployed in ways that add value? How can they be supported through semi-automation? What software is needed to control processes transparently and efficiently? Linde and Dematic have the experts who can answer these questions and the products to implement the corresponding solution concepts.
Safety
Highlights Safety
Safety zones definable via fleet management (connect:zi)
Automatic roller shutter control with Linde Safety Guard
Rear area monitoring Linde Motion Detection for forklift trucks
Safety in the internal movement of goods is not only an obligation to employees. It is also an effective lever for greater productivity and lower costs. For this reason, Linde Material Handling has always been working on solutions that make the use of Linde products safer. These include design improvements to the driver's vision on new trucks, as well as effective warning systems, technical safety assistants that actively intervene in hazardous situations, and explosion-proof vehicles - which could bee seen live and in color at the #WoMH2022.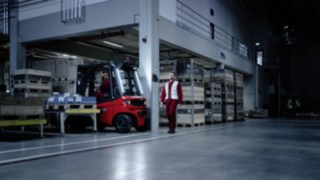 Energy
Highlights Energy
Smart charging management with Linde connect:charger
Structured energy consulting with the Energy Navigator
IoT-based analysis and forecasting of energy consumption
The operation of industrial trucks is a weighty factor in a company's overall energy consumption. The right use of energy determines both climate friendliness and cost efficiency. That's why Linde helps its customers find the right energy system for their needs: Diesel and LPG engines, lead-acid and lithium-ion batteries, fuel cells. The customer is not alone in being spoilt for choice: whether it's a tool-supported as-is analysis, innovative charging software or advice on setting up the necessary infrastructure: with our offerings, you always have your energy requirements firmly under control.
Digitalization
Highlights Digitalization
Digital forklift twin enables remote diagnostics and preventive maintenance
Guiding and control systems for forklifts, tugger trains and narrow-aisle trucks
Digital warehouse management with Linde Warehouse Navigator
Today, only small efficiency gains can be achieved with purely technical optimization of machines - modern sensor technology, digital networking, software and data utilization promise significantly higher potential for increases. The flow of information and the central control of all system components are becoming increasingly important for the smooth flow of materials. With the new generation of Linde counterbalanced trucks and IT solutions for inventory management, control systems and fleet management, Linde brought together many new offerings in the area of digitalization at #WoMH2022 that will make your material flow fit for the future.
More about the #WoMH2022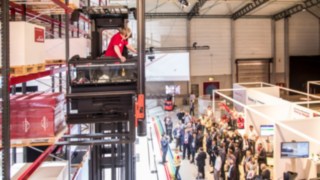 Warehouse & Driving Experience
The highlight of the World of Material Handling 2022 was the "Warehouse" - where drinking bottles were produced for visitors of the event. From incoming goods to storage, picking and production, right through to delivery on the last mile, our latest trucks and automated solutions moved the materials here as if they were being used in the real world - controlled and monitored from the Control Center.
In addition, #WoMH2022 offered the entire new generation of forklifts from Linde in real outdoor use. Take a look - here you can find all the articles by our reporter duo about the Warehouse and the impressions of our visitors during the live test of our vehicles.