As simple as possible
Intralogistics is more dynamic than ever before: growing goods flows, increasing competitiveness, constant emergence of new automation and networking systems, and tailored processes and solutions to meet the individual needs of customers. These global developments present companies with increasingly complex requirements that affect almost every aspect of their business operations. This also has an impact on the supply chain, from suppliers to customers.
But which trends are actually relevant? Which technologies are suitable for solving individual challenges in the long-term? How can systems be smoothly integrated and how can safety be consistently guaranteed? Above all else: What contributes to business success?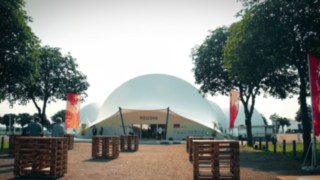 Complexity is Simple—with Smart Solutions from Linde
We at Linde analyze the individual requirements of our customers and combine this knowledge with our experience from projects in various industries. In order to develop suitable solutions for companies, we rely on innovative products and systems. As an intralogistics solutions provider, our customers benefit from modular, scalable, and easy-to-implement complete solutions for highly complex tasks within modern intralogistics. In this way, we are making it possible to master complexity in the long term, in order to make intralogistics processes more efficient, safer, faster, and more economical—both now and in the future.
Experience Simplexity at the WoMH 2018
Together with our partners we will be making our value proposition "Simplexity" a tangible experience at the World of Material Handling 2018. Through live installations of real intralogistics processes, we will illustrate the intelligent interaction of new energy systems , digital applications , security technologies, and automation . We will use face-to-face discussions to advise our customers on individual questions and explain the advantages of our technical solutions. Our partner Dematic will also be in attendance, along with a wide variety of providers from the intralogistics sector.
WoMH 2018: Our Topics—Our News—Our Partners