Material flow could be experienced at #WOMH2022
Warehouse & Outdoor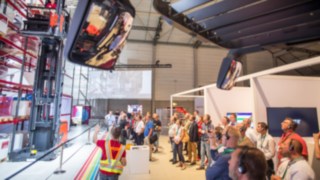 Material flow you can touch: A very special highlight of WoMH 2022 was the "Warehouse". From incoming goods to storage, picking and production, right through to last-mile delivery, our latest vehicles and automation solutions moved the materials of a small factory for drinking bottles here as if they were in real operation - controlled and monitored from the Control Center.
But there's more than just looking and touching: At #WoMH2022, visitors could drive and test every single vehicle on the site for themselves - the entire new generation of forklifts from Linde even on a huge experience course in the outdoor area.
Warehouse
Step by step, the raw materials for the bottle production run through the entire process chain of internal material flow before the eyes of the visitors. Here, different solution approaches can be found for each individual requirement - manual, semi-automatic and fully automated processes in the warehouse, for order picking and in production supply. In addition, new, compact pallet trucks, tugger trains with manual and fully automated trailers, semi-automated picking equipment, IT-supported VNA stackers and much more.
What this looked like at the World of Material Handling 2022 was captured for you by our WoMH-scouts. You can find all videos and reports from the Warehouse here.
Driving Experience
Touch, feel, give it a try! Often, the advantages of a truck only really become evident when you've had a chance to try it out for yourself. This is especially true for Linde, because we focus on the operator during product development. Only when the operators feel comfortable on their equipment and are able to use it without great physical strain do the full benefits of the vehicle's performance come to bear. You can feel this difference!
What our guests of WoMh 2022 said when they loaded a truck in the outdoor area with the world's most powerful electric forklift - the Linde X20 - X35 - or stack scrap cars with the new H35 - H50 - can be seen and read here.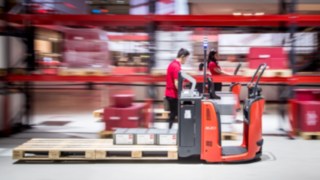 Solution areas
For a future-oriented intralogistics operation, it is not enough to look at processes and workflows alone. New solutions must be flexible, scalable and efficient - and at the same time safe and resource-efficient. They should make complexity controllable and contribute to value creation.
We showed many of our newly developed vehicles, safety and energy systems, software tools, and consulting services at the World of Material Handling 2022, that will help you make your internal processes more economical, transparent, safe, and climate-friendly.
The offerings associated with forklifts and warehouse trucks can be found in the solution areas of Intralogistics & Automation, Safety, Energy and Digitalization.