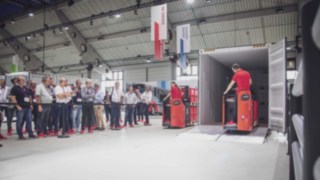 Here's where the action is - a visit to goods receiving...
1 Jul 2022
Walk the Talk with Peter Klug
In the beginning there was - goods in. The first stop in our WoMH2022 red bottle factory and the place from where the caps, glass bottles and clips get distributed to their next destination. A high traffic area, as Luis and I discuss with Warehouse Truck Product Manager Peter Klug. His favorite new truck is the T20 SP - a stand on pallet truck concept, that can only be found at Linde.
Seeing how the trucks rumble in and out of the containers, it's easy to understand why safety and ergonomics factors made engineers implement an integrated BlueSpot and a fully suspended operator compartment on the new pallet truck series. We also talk about the other work horse for loading and unloading, the double stacker D10 FP, optionally equipped with the new zone intelligence feature of Linde's fleet management system connect.