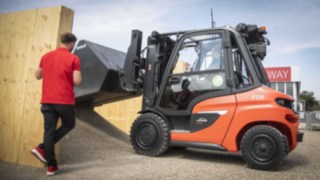 Counterbalance trucks… show me what you got!
29 Jun 2022
Expert Talk with Björn Walter
Highlights, highlights everywhere you look at the WoMH! Of course, our friends from the counterbalanced trucks also have a lot to show, so Luis and I stop by to see Björn Walter. He is particularly proud of the brand new H35 - H50. Not only is it new, but it's also the big brother of the E, H and X trucks in the 2.0 to 3.5-ton class - the starting point for Linde's new generation of forklifts. Björn explains to us the advantages of the joint platform for IC engine and electric forklifts for the customer. Which are? We tell in the video...