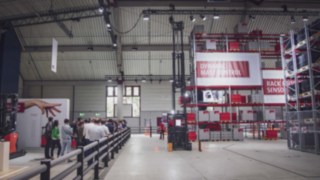 Take us up to new heights!
30 Jun 2022
For a coffee with: Alexander Schmidt
For this episode of my coffee chat, I invite Alex Schmidt to talk to me about Linde's new heavy-duty mast for the 1.4 to 2.5 ton reach trucks of Linde's R10 – R25 series. Over a nice cappuccino in the Drivers Lounge I find out which customer requirements lead to the development of this new heavy-duty mast. It wins customers over by increasing the driver's field of vision by up to 27 percent. The new mast reaches up to 15 meters high and oscillations when working at height are compensated by Linde's proven assistance system Dynamic Mast Control.