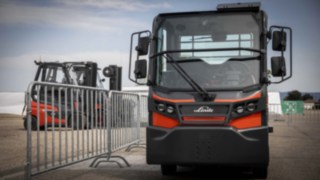 Finally more towing
24 Jun 2022
Three questions for: Philippe de Castro
In line with market requirements, Linde has expanded its range of heavy-duty tow tractors and also improved the vehicles in many areas. Philippe de Castro, International Product Manager Assistant, tells us what customers will be able to tow in the future and how they will benefit from the innovations.
Philippe, we have heard that Linde used to have only one heavy tractor in its program. Now you offer many different models. Where did the change of heart come from?
In fact, up to now we have only had the P250 on offer, with which you can tow 25 tons. But we talk a lot with our customers and analyze the market very closely. In doing so, we have noticed that practice calls for a broader range of tractors. Some customers need lower towing capacity for lighter applications, while others want to pull very heavy trailers. Some would like it to be a little more economical, while others will sometimes dig deeper into their pockets for the corresponding towing capacity. That's why we now have a new tractor series consisting of five models that can move between 12 and 35 tons, depending on requirements.
When and where are such workhorses used in everyday life?
To answer this precisely, I would like to distinguish between our new tow tractors and our platform trucks, which we have also completely redesigned. The P120 to P350 tractors have very powerful electric motors but are very nimble and easy to maneuver despite the sometimes considerable trailer load. This makes them ideal for use at wholesale markets, airports or in production supply. The W20 to W30 platform trucks, on the other hand, piggyback the load and are perfect for the bundled transport of large quantities of material, as required for sequential delivery in clocked processes. For example, in production lines in the automotive industry.
Did you just build bigger and smaller versions of the old P250 for the new tow tractor series?
No, not at all. We've redesigned the entire vehicle and made a whole range of improvements. The new models offer better visibility of the surroundings, enabling effortless driving and maneuvering in both directions. We have also developed a more efficient, maintenance-free braking system and simplified the battery replacement process. The operator platform is fully suspended to protect the operator from vibration and prevent back problems. In addition, the cab is designed so that the operator can comfortably reach everything he needs. This makes our tractors the most comfortable in the whole market.
Dear Philippe, thank you very much for this interview.
Numerous additional features for the heavy tractors

Users can choose from five models in Linde's new tow tractor series: the P120 for 12 tons, the P180 for 18 tons, the P250 for 25 tons, the P300 for 30 tons and the P350 for 35 tons. All vehicles can be equipped with many additional features and options, including a rearview camera, air conditioning, heating, heated windshield and an automatic parking brake. New mirror solutions and various safety packages for driver and vehicle are also available.