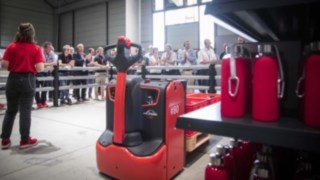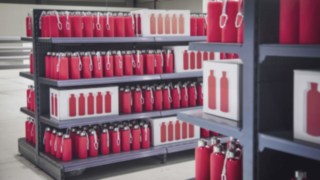 How did the red bottles get on the shelf?
30 Jun 2022
Walk the Talk with Sven Bilz
Luis and I saunter over the famous last mile here on the WoMH 2022 site. Trainer Sven Bilz takes us on a little tour and shows us which low-lift truck (the new T14) is used to quietly deliver goods in the city. He also tells us which trucks (the MV01 and the new T16 L) help him get the red Linde bottles, which are produced here at WoMH for visitors, to the supermarket shelves. Luis and I even get to help him out a bit.