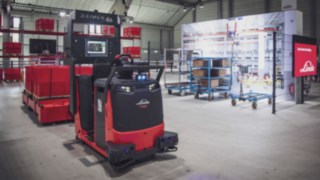 Let's talk about lean line supply!
29 Jun 2022
Walk the Talk with Mal Rexhepi
Luis and I get to talk to Mal Rexhepi today about lean management on the shop floor and how tugger train solutions are used to bundle horizontal material flows for line supply. For both driving and load handling, Linde can combine manually operated and automated solutions. For example, we learn about the new heavy and very comfortable tractor P250 and a frame that picks up and transfers pallets fully automatically. In addition, Mal describes how Linde's tugger train guidance system ensures that the driver always knows which goods are picked up where and which is the fastest transport route.