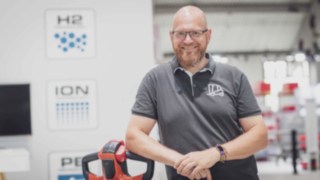 The hydrogen revolution
28 Jun 2022
Three questions for: Karl Knipfelberg
Hydrogen fuel cells enable vehicle drives with enormous future potential, especially for sustainably minded companies. Karl Knipfelberg, VP Product Management Counterbalance & Energy, explains to us what practical advantages the technology has and what to look out for in intralogistics fleet planning.
Karl, let's say we are thinking about having our new Linde vehicle equipped with a hydrogen fuel cell. Would you have some good arguments for us?
There are several of these. First and foremost, for me, is sustainability. Fuel cells convert hydrogen into electricity. If the cell is fueled with green hydrogen produced with wind and hydroelectric power, the entire value chain from generation to consumption is CO2 -neutral. In terms of handling, refueling is just as quick and easy as with a combustion engine. You simply plug in the fuel nozzle and two to three minutes later you're ready to go. Anyone who can refuel a car can also refuel a fuel cell. In addition, safety is increased: Unlike classic lead-acid batteries, fuel cells do not need to be replaced. This eliminates the risk of crushing or injury.
Space for the fuel cell

In intralogistics, the term "fuel cell" refers to a battery replacement module (BRM). The size, shape and weight of these modules fit exactly into the battery compartment of a vehicle. This means that an existing lead-acid or lithium-ion battery can be replaced one-to-one by this module. The modules convert the energy from the hydrogen into electric current and use it to feed an integrated Li-ION battery. This is needed to provide the vehicle with a continuous supply of electricity and to be able to meet peak loads electrically, for example when lifting loads. The system also includes a hydrogen tank, a filler neck and other components.
Can you tell us where Linde gets its fuel cells?
Yes, of course. We currently source our fuel cells from the U.S. company Plug Power. However, we are working in parallel to expand our own expertise in this area. Our goal is to be able to offer everything from a single source for hydrogen drives in the future. Customers will then receive the vehicle, the fuel cell and the associated service completely from Linde. To this end, we are working with our parent company KION to develop our own 24 V fuel cell system under the name HyPower-24V, which will be launched in 2023.
Okay, the idea with the hydrogen has convinced us. Is there anything else we should consider in advance?
Using hydrogen vehicles is a strategic and holistic decision. You won't get very far with piecemeal solutions. That's why you should ask yourself a few key questions beforehand. For example, how many other hydrogen consumers already exist on the plant site. This could be a combined heat and power plant or a fleet of trucks. As a rule of thumb, the more hydrogen consumers there are on the plant site, the faster the use of hydrogen pays off. The same applies to fleet size. The more intralogistics hydrogen vehicles in use, the more cost-effective. At the same time, how the vehicles are used is also important. Hydrogen vehicles are ideal for two- or multi-shift operations. The longer the daily operations, the better. For operations of less than 1,200 operating hours per year, the use of fuel cell systems unfortunately makes no sense, either technically or economically. Here, the use of Li-ION technology is optimal.
Dear Karl, thank you very much for this interview.