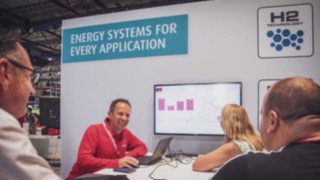 Energy made to measure
30 Jun 2022
Three questions for: Andreas Kistner
Diesel? Gas? Electric drive? Or perhaps even fuel cells? When it comes to energy systems for industrial trucks, companies today are spoiled for choice. With the Linde Energy Navigator, Linde supports a fact-based decision. Andreas Kistner, Senior Director Business Innovation, explains how it works.
Andreas, Energy Navigator sounds like something out of a science fiction movie. What do we have to imagine by that?
Science fiction is perhaps a bit of an exaggeration, but in my view, it is definitely forward-looking. In intralogistics, many companies are currently asking themselves which is the best energy system for their industrial trucks. Internal combustion engine? Electric? Or possibly hydrogen fuel cell? The Energy Navigator is a tool for structured consulting that answers this question quickly and easily. Linde consultants guide you step by step through a digital questionnaire. At the end, the software makes a statement about which energy system is best suited to the customer's tasks.
That sounds pretty elaborate and complicated....
No, not at all. In fact, it's very quick. In a conversation lasting around 15 minutes, the Energy Navigator gathers all the relevant requirements and goals of the customer. The questions are relatively simple and quick to answer, but still go into great detail. From this data, the software creates a transparent overview of the most important criteria that speak for or against a particular energy system. This results in a pro-and-con analysis on the basis of which an informed decision can be made. The preparation effort for customers is minimal.
In your personal experience: What factors influence the decision for an energy system the most?
This depends heavily on the customer's situation. That's why the Energy Navigator takes into account a wide range of parameters, from the existing network infrastructure, shift schedules and operating environments to the company's production and sustainability goals. Each customer weights these areas differently, giving them the opportunity to tailor the result perfectly to their own needs. 'Right Energy' is thus not just a buzzword, but really exactly what customers get.
Dear Andreas, thank you very much for this interview.