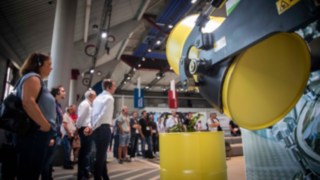 Explosions? Not with us!
27 Jun 2022
Three questions for: Elke Karnarski
Industrial trucks need comprehensive explosion protection to work in highly flammable atmospheres. Elke Karnarski, Product Manager Ex-Proof Trucks, explains to us the advantages of Linde's explosion-proof vehicles and the innovations that will be introduced in the coming years.
Elke, who actually needs explosion-proof industrial trucks?
Explosion protection vehicles are always needed where hazardous materials are transported and stored. Normal forklifts and warehouse trucks can produce sparks or hot surfaces that trigger explosions when they come into contact with escaping gases or dusts. This can happen in pharmaceutical production, in the chemical industry or in food and beverage manufacturing. And, of course, in logistics companies that store large quantities of hazardous substances. That's why the EU has developed corresponding safety guidelines: One obliges operators to set up hazardous areas, so-called ATEX zones. The other defines on this basis how explosion-protected vehicles must be specifically designed.
Maximum availability for explosion protection

With its dense service network, Linde ensures that explosion-protected vehicles are also ideally maintained and ready for use at all times. Specially trained service technicians are available worldwide and guarantee maximum vehicle availability. As with normal series production vehicles, spare parts for explosion protection equipment are also available in Europe via a 24/7 supply.

To further optimize availability, Linde has developed the Ex-Monitoring App. Ex-protection vehicles from Linde indicate critical vehicle conditions that lead to the shutdown of the vehicle via blink code. The app translates this blink code into concrete instructions for the driver. For example, he knows immediately whether he just needs to let the vehicle cool down or should call a service technician. The app also draws attention to upcoming maintenance work.
What makes Linde vehicles the first choice for explosion protection?
First of all, we offer a wide range of vehicle types, from pallet trucks to counterbalanced trucks. They perform in every respect the same as our series vehicles, supplemented by additional safety for ATEX zones. For special tasks, we have special vehicles on offer, such as a pallet stacker with remote-controlled drum tipping function. Our explosion protection for ATEX zones 1/21, where hazardous atmospheres frequently occur, is unique. For these zones, external bodies normally only test the explosion protection of all electrical components. We additionally have the vehicles certified in their entirety to make them even safer. In addition, our customers receive detailed explosion protection documentation, for new vehicles as well as for maintenance and repairs.
What can we expect from Linde in terms of explosion protection in the coming years?
Quite a few things. For example, we are constantly adapting new series vehicles for explosion protection. In this way, we ensure that all ATEX equipment has the latest technical and digital features in the areas of ergonomics, performance and safety. We are also driving forward the development of explosion-proof lithium-ion batteries. This is because it allows customers to use this drive variant for their entire fleet, including explosion protection. We are also working on technical ways to simplify processes. For example, the quantity of hazardous materials that logistics service providers store and move often varies. The respective hazardous zone must therefore often be enlarged, reduced or relocated at short notice. We want to create variable digital zones for this in the future. This would allow only explosion-protected vehicles to enter the currently valid ATEX zone.
Dear Elke, thank you for this interview.