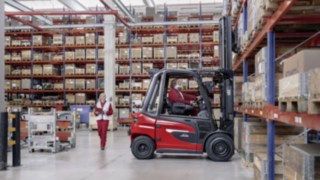 Eyes on the back of the head
22 Jun 2022
Three questions for: Fabian Zimmermann
Safety for retrofitting
Linde Motion Detection was developed as an optional safety feature for working with counterbalanced trucks. The system is designed as a retrofit solution, which means that individual vehicles or complete fleets can also be equipped with additional safety at a later date.
There are some things you just never have enough of. When it comes to safety in the warehouse, that's definitely true. That's why Linde is constantly developing smart forklift guardian angels like Linde Motion Detection. Product Manager Safety Solutions Fabian Zimmermann explains to us what the assistance system can do and who it saves in case of doubt.
Fabian, in today's intralogistics, few things are as important as safety. Where do you think the need for protection is particularly great?
Modern warehouses are often hectic and confusing. It can quickly become quite dangerous if a forklift suddenly reverses in the middle of the bustle. This is how more than half of all forklift accidents with human injuries happen. The driver concentrates on the load in front of him, but the pedestrian behind him relies on being seen somehow. Unfortunately, this is often a mistake, in the worst case with fatal consequences. We have developed Linde Motion Detection for such situations. It detects movements behind the stationary vehicle and thus prevents accidents with people and other vehicles.
Can you explain this more?
As soon as the assistance system detects movement at the rear of the vehicle, it prevents the vehicle from moving off and alerts the driver with a warning message on the display. In addition, a sound signal makes it clear to the pedestrian that he or she is currently in real danger.
After the warning, the driver must first return the accelerator pedal to the neutral starting position in order to be allowed to continue driving. The system can be adapted to different environments and works absolutely reliably even in difficult lighting conditions. This allows drivers to maneuver safely even in poorly lit and unclear sections.
What about the warned pedestrians? Do they take the hazard warnings to heart?
Yes, definitely. Time and again, we observe that a certain awareness of dangerous situations sets in among all employees as soon as Linde Motion Detection is in use.
Since pedestrians are always warned by the alarm sound in typical dangerous situations, a learning effect gradually sets in. Over time, critical situations arise less and less frequently. This is of course ideal for general safety in the warehouse.
Fabian, many thanks for this interview.