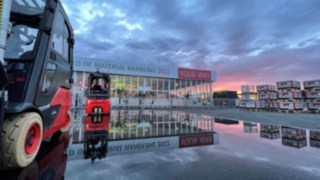 Finally live and in color again!
We are delighted that we are once again welcoming visitors from all over the world in person to the World of Material Handling from June 20 to July 1, 2022.
#WoMH2022
At the Maimarkt site in Mannheim, Germany, we are presenting the latest innovations from Linde Material Handling: from the world's most powerful electric forklifts, a revolutionary control concept for counterbalanced forklifts, innovative warehouse trucks, sustainable energy consulting and pioneering digital products: this is where the future of your intralogistics becomes tangible.
We want to bring our understanding of customer orientation, solution and process competence to life for you not only on site, at the World of Material Handling, but also on this website.
That is why you can find all information about the contents and attractions on site as well as portraits of our partners who are also represented at the World of Material Handling here. During the event, WoMH scouts Kimsy and Luis are reporting here for you on a daily basis.
So allow us to convince you: The optimization of your goods flows and material flows is the focus for us as your partner and holistic solution provider. Your success is our success.
YOUR WAY IS OUR WAY!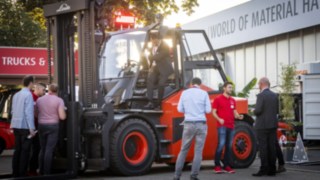 What there is to discover - the WoMH 2022
On countless square meters, the World of Material Handling has new vehicles, technologies, tools and solution concepts for all areas of intralogistics. This is most impressively showcased in the Warehouse, where many of these products can be seen in action in (almost) real-life use, from incoming goods to storage and order picking to the last mile. But the focus goes beyond pure material handling: Intralogistics & Automation, Safety, Energy and Digitization are the four Solution Areas of #WoMH2022. In general, experience is writ large: Every vehicle on the site can be tested - and there is even a simulator for the new revolutionary control concept.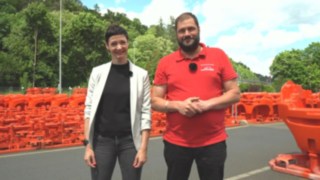 WoMH Scouts: The flying reporters
Live for you on site: During the WoMH, a duo of reporters, the WoMH Scouts, report on the event happenings on their blog. In several articles per day, the scouts provide exciting insights and background reports in text, pictures and video. The racing reporter duo consists of Luis Lüder, trainer at the Linde Sales Academy, and Kimsy von Reischach, a moderator and journalist. From the insider's and outsider's perspective, they offer a colorful look at the goings-on on site and provide you with everything you need to know about #WoMH2022.
The WoMH-Scouts latest blog news
Strong together: Our partners
In addition to the experts from Linde, you will also meet the numerous specialists from our partner companies at World of Material Handling 2022. Find out here which cooperation partners will be on site at the Maimarkt in Mannheim with which topics and products: