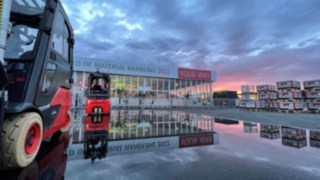 That was the WoMH 2022!
You should always stop when it's at its best. And so the World of Material Handling 2022 also came to an end after two action-packed weeks.
From June 20 to June 30, we welcomed numerous visitors from all over the world at the Mannheim Maimarkt. Under the motto YOUR WAY IS OUR WAY, our guests were able to test all the vehicles, technologies and tools that Linde and its partners have to offer.
From the world's most powerful electric forklifts to the revolutionary Linde Steer Control concept and digital Speed Zoning: at WoMH 2022, modern material flow was finally within reach again.
Short ramble about the #WoMH22
A special attraction was the live installation of a bottle production , in which all intralogistics stations of the entire process chain could be marveled at, from goods receipt to storage, picking, and production to last-mile delivery.
Our highlight video takes a brief tour of the exhibition grounds and summarizes the most important aspects of two weeks of WoMH 2022 for you.
If you still haven't had enough of the World on Material Handling, just keep an eye out on social media for the hashtag #WoMH2022.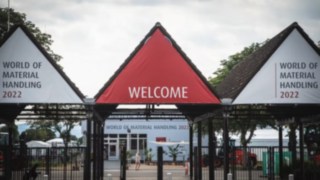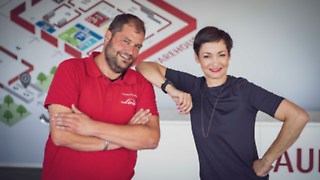 WoMH Scouts: The roving reporters
Our WoMH Scouts reported directly from the fair grounds throughout the entire duration of WoMH 2022. In several reports per day, the racy reporter duo provided exciting insights and background reports in text, pictures and video.
The team of reporters consisted of Luis Lüder, trainer at the Linde Sales Academy, and moderator and journalist Kimsy von Reischach. The insider's perspective and the curious interest of an outsider offered a colorful view of the goings-on on site and provided readers with everything worth knowing about #WoMH2022.
Insight on the WoMH-Scouts blog news
Strong together: Our partners
In addition to the experts from Linde, you will also meet the numerous specialists from our partner companies at World of Material Handling 2022. Find out here which cooperation partners will be on site at the Maimarkt in Mannheim with which topics and products: